Seiteninhalt
Dedicated server build-to-order
technical details
Bandwidth
100Mbps
Traffic
unlimited
System installation
personalized with security and setup audit
Access
root via SSH + web panel
Alternative access
via console port management
Physical reboot
remote via E-Powerswitch
Premium support
optional
Backup
optional (full user backup control)
Hardware
Server construction made to mesure (precise quotation)
Monthly flat rate
colocation 1U + connection = 75 €/month (+ server purchase)
More details
See the comparison of specificiations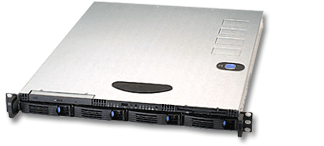 Overview
The build-to-order hardware solution offers you the best price/quality relationship. It is addressed to organisations or companies who develop an important part of their activity on the Internet and who want to profit from a reliable, performing and evolving working environment. The all2all team helps you to select the components which are best suited to run your application with a maximum of security. It points you out the different technical possibilities and orients you towards the best solution corresponding to your budget. Before putting the system online, a system operator meets with you and tests with you the different services from your desktop. This setup audit permits to verify that all engagements defined in the contract are respected and establishes a personal contact with the person who will administer the system.
Price/month: starting at 75 € (90,75 € vat incl.)
Description
A dedicated web server essentially implies a server that can be used solely by one organization and its partners. all2all offers build-to-order hot-swap server systems corresponding to a high level of requirement at a very competitive price. The all2all team assembles and configures all types of dedicated server systems, ranging from very simple and compact servers to highly complex systems which satisfy special demands in terms of high availability, load balancing or clustering.
The purchase of a server system has the following advantages over renting:
a large choice of high quality hardware components
the hardware is specifically adapted to the use of the server
the hardware configuration can easily be upgraded to respond to higher load (more RAM, more discs, etc.)
the server purchase can be written off from tax
possibility to lease the server system
better longterm quality/price relation
possibility for special Service Level Agreement (SLA), contrats 99 to 99.99% on network uptime
client can easily carry away his data on one physical server (no provider dependency)
For a personalized offer please contact our sales service.