Seiteninhalt
New servers green and extra green
All2all proposes a new range of dedicated servers with a higher performance, respecting the environment at the same time. The hardware configuration of our Extra Green and Green offers are well thought out in order to achieve the highest power efficiency/performance ratio. We also stretched storage and memory capacities. We have carefully selected processors with a minimum of heat exhaustion while keeping a very high performance level. As the power consumption is lower, so are the prices. You can already buy an Extra Green Server with a starting price of no more than 299€.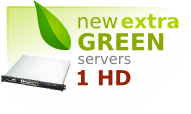 An Atom D525 Dual-Core HT 2 x 2 x 1,8GHZ server, TDP «13W», 4 GB DDR3 RAM, 1 HD 1000 GB, «purchase price 379€ excl.vat», colocation starting at 45€/month.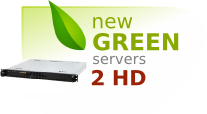 A Xeon E3-1230 Quadcore HT 4 x 2 x 3.2Ghz server, TDP «80W», 8 MB L2 cache, 8 GB DDR3 RAM, 2 HD's 2000 GB in software RAID1, 32 GB Eth., «purchase price 975€ excl.vat», colocation starting at 75€/month.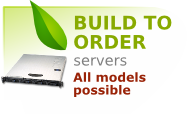 And we always offer tailor made dedicated servers achieving the best configuration with the lowest power consumption possible. «purchase price on demand», colocation starting at 75€/month.